For the Spreadshot used in Battle Bears -1, see Spreadshot.
Spreadshot



Class

Type

Secondary - Shotgun

Level Required

4

Price

35,000 Joules

Damage

25

Shots per Second

1.0

Ammo

4

Reload

4 seconds

See:
The Spreadshot is a secondary weapon for the Soldier class, being one of the original three secondaries. It is a rounded shotgun, providing a balance between speed and power for good reliability at close quarters. The weapon is sufficient for both offensive and defensive usage.
Useless at range but devastating up close. Handy for close encounters...
~ Official Battle Bears Gold description
Equipment
The following Equipment affects the Spreadshot:
Trivia
Weapon demonstration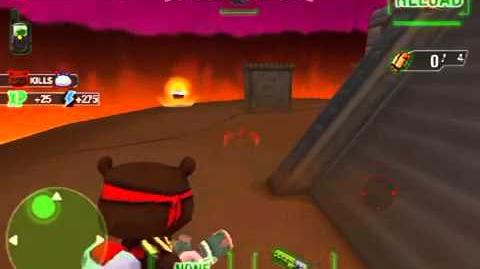 Ad blocker interference detected!
Wikia is a free-to-use site that makes money from advertising. We have a modified experience for viewers using ad blockers

Wikia is not accessible if you've made further modifications. Remove the custom ad blocker rule(s) and the page will load as expected.