Sci-Fi HASR



Class

Type

Primary - Automatic

Level Required

15

Price

85 Gas

Damage

7.0

Shots per Second

8.0

Ammo

60

Reload

4.5 seconds

Dispersion Angle

0.05

Stat Modifier

-12% Speed

See:
The Sci-Fi HASR, named as the standard abbreviation of Sci-Fi Heavy A Salt Rifle, is a primary weapon for the Soldier class, being released during the second week of v1.3.1. It is a retexture of the standard Heavy A Salt Rifle, functioning as the higher damage alternative in exchange for versatility, giving it more base damage and with a slightly lower speed reduction, but at the loss of ammo and with a longer reload. It retains the mid-ranged automatic characteristics with overall medium damage and ammo, along with a long reload and partial inaccuracy. With a moderate amount of ammo and a faster than average rate of fire, ammo is depleted at a faster rate than usual. The weapon serves as an effective assault weapon, but can only engage several targets in mind of the reload. This weapon has deals 56 base DPS.

Look no further for reasons for people to get out of your way, you're holding the only one you need. Should a chump still refuse to step aside, this puppy has a convenient little button to change their mind.
~ Official Battle Bears Gold description
Equipment
The following Equipment affects the Sci-Fi HASR:
Trivia
Originally, the Sci-Fi HASR cost 130,000 Joules.
Like all v1.3.1 weapons and skins, the Sci-Fi HASR was offered to those who took part in the Forum Appreciation promotion, free of charge and before the official release date/week.
Video demonstration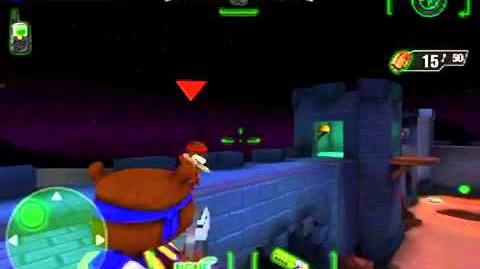 Ad blocker interference detected!
Wikia is a free-to-use site that makes money from advertising. We have a modified experience for viewers using ad blockers

Wikia is not accessible if you've made further modifications. Remove the custom ad blocker rule(s) and the page will load as expected.