Rivet Gun



Class

Type

Primary

Level Required

1

Price

50,000 Joules

Damage

25 DPS

Shots per Second

1.32

Ammo

3

Reload

4 seconds

Stat Modifier

None

Projectile Speed:

1,600 u/s

See:
The Rivet Gun is a primary weapon for the Engineer in Battle Bears Gold, released in v2.1. Its projectiles, rivets, land on the ground or any wall and immediately form light purple energy fields around their landing area, which last for 7 seconds. The rivets themselves cannot directly damage players. The energy fields that are formed deal damage to players who stray into them.

Not just for fixing. This weapon shoots electrified rivets that stick into walls and create a ball of death!
~ Official Battle Bears Gold description
Usage
Equipment
The following Equipment affects the Rivet Gun:
Trivia
The Rivet Gun's original function was for the rivets to stick to the ground and then connect to each other using beams to form a kind of damage-dealing barrier. It was originally meant to be released in v.1.4.3, but its release was delayed to make improvements to its function, which was changed to the current one. 
There is currently an easily exploitable rapid-fire and infinite ammo glitch for this weapon.
Although the description describes the energy fields as ball-shaped, they are in fact square when viewed from above.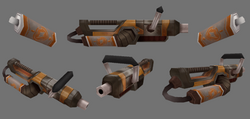 Ad blocker interference detected!
Wikia is a free-to-use site that makes money from advertising. We have a modified experience for viewers using ad blockers

Wikia is not accessible if you've made further modifications. Remove the custom ad blocker rule(s) and the page will load as expected.