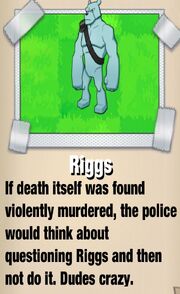 Riggs is the third Hero in Battle Bears Fortress. He can use two weapons: Minigun and Dual Lasers.
Minigun
Takes a little bit to get going but once it gets going its damage is unrivaled!
~Official Battle Bears Fortress Description
Minigun is the default weapon used by Riggs in Battle Bears Fortress and can shoot projectiles at a high rate using a crosshair, although it takes several seconds for the gun to wind up before actual shooting and the high rate of fire leads to bullets occasionally being wasted.

AMMO
| Upgrade: | Price: |
| --- | --- |
| Level 1 | ? coins |
| Level 2 | ? coins |
| Level 3 | ? coins |
| Level 4 | 600 coins |
| Level 5 | ? gems |
Ad blocker interference detected!
Wikia is a free-to-use site that makes money from advertising. We have a modified experience for viewers using ad blockers

Wikia is not accessible if you've made further modifications. Remove the custom ad blocker rule(s) and the page will load as expected.