For the rifle used by Oliver in Battle Bears: Zombies, see Assault Rifle.
The Rifle is an Arcade mode weapon in Battle Bears Zero. It thrives with high accuracy, supportive crosshairs and fast moving shots, making it an effective weapon against long range targets. It is the only weapon in Battle Bears Zero to include a Penetration aspect, which allows shots to travel through multiple targets, other than a fully charged Blaster Cannon.
Upgrades
Upgrade:
Price:
Improvements:
Purchase
25,000 Joules
Weapon acquired
Level 1
175,000 Joules
?
Level 2
250 Gas
?
Level 3
500 Gas

Damage
Magazine Size
Reload Speed
Penetration

Level 4
1000 Gas

Damage
Rate of Fire
Magazine Size
Reload Speed
Penetration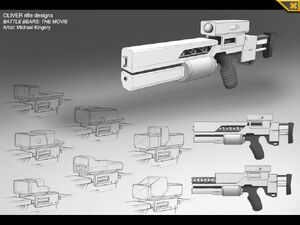 Ad blocker interference detected!
Wikia is a free-to-use site that makes money from advertising. We have a modified experience for viewers using ad blockers

Wikia is not accessible if you've made further modifications. Remove the custom ad blocker rule(s) and the page will load as expected.