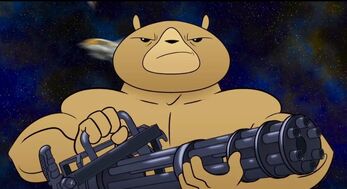 The Minigun is a weapon used in the Battle Bears Zero Campaign. It appears in Level 0, the tutorial level, and Level 12, the final battle against Rho, who had escaped into Wil's video game world. Both these levels take place inside Wil's video game, hence the huge and fit frame that he has.
Ad blocker interference detected!
Wikia is a free-to-use site that makes money from advertising. We have a modified experience for viewers using ad blockers

Wikia is not accessible if you've made further modifications. Remove the custom ad blocker rule(s) and the page will load as expected.