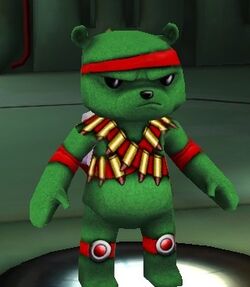 The
Green Oliver
skin is a skin for the
Soldier
class, being one of the eight originally released. It is in all ways identical to the
default
skin but with a change of body colour.
It costs 25,000 Joules and has a level 2 lock.
This skin just makes you green. It does not grant you hulk like powers or photosynthesis.
~ Official Battle Bears Gold description
Trivia
Being an original skin, the name does not include Oliver following the colour.
The Green skin is tied as the cheapest costing item alongside the Purple Riggs skin.
Ad blocker interference detected!
Wikia is a free-to-use site that makes money from advertising. We have a modified experience for viewers using ad blockers

Wikia is not accessible if you've made further modifications. Remove the custom ad blocker rule(s) and the page will load as expected.