The Green Justice skin is a skin released in v2.16 for the Assassin class in Battle Bears Gold. It costs 250,000 Joules.
in blackest night, No evil shall escape my sight. Let those who worship evil's might, Beware my power, Botch's Lantern's light!!!
~ Official Battle Bears Gold description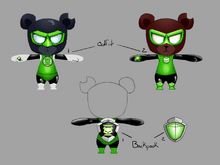 The Green Justice skin is a skin for
Assassin
in
Battle Bears Gold
Appearance
Trivia
This is a parody of the superhero the Green Lantern.
Ad blocker interference detected!
Wikia is a free-to-use site that makes money from advertising. We have a modified experience for viewers using ad blockers

Wikia is not accessible if you've made further modifications. Remove the custom ad blocker rule(s) and the page will load as expected.