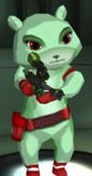 The
Green Astoria
skin is a skin for the
Sniper
in
Battle Bears Gold
.
It costs 25,000 Joules.
She might be ill or attempting to not get pinched on St. Patrick's Day. We still don't know.
~ Official Battle Bears Gold description
Trivia
The first part of the skin description is about being ill to the point where you turn a shade of green while the second part is about an American Saint Patrick's Day tradition originating from 18th-century Boston. The early Irish settlers thought that if you wore green, it made you invisible to the Leprechauns, which was good because Leprechauns would pinch anyone they could see.
Ad blocker interference detected!
Wikia is a free-to-use site that makes money from advertising. We have a modified experience for viewers using ad blockers

Wikia is not accessible if you've made further modifications. Remove the custom ad blocker rule(s) and the page will load as expected.