God Complex is a skin for the Demo in Battle Bears Gold. It features team-colored war paint on Tillman.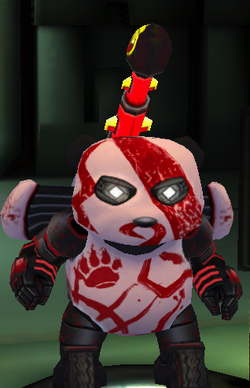 It costs 100 Gas and has no level lock.
Warpaint! It's fantastic!!!
~ Official Battle Bears Gold description

It was available upon Battle Bears Gold's release in Version 1.0.
Trivia
This skin is based on Kratos from the God of War video game franchise. They both have red warpaint, and they both have the strip over their left eye.
A God Complex is a belief in which a person believes that they are perfect, infallible and never wrong.
It formerly cost 400 Gas and was then reduced to 300 Gas before being reduced to the currently seen.
In the early beta versions of Battle Bears Royale (now Gold), it was called the Graphene and costed 7,500 Joules.
Ad blocker interference detected!
Wikia is a free-to-use site that makes money from advertising. We have a modified experience for viewers using ad blockers

Wikia is not accessible if you've made further modifications. Remove the custom ad blocker rule(s) and the page will load as expected.