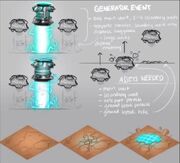 Generator is a form of environmental hazard in Battle Bears Overclock
Description
During a match, three Generators will randomly appear, and start producing Huggables. The Generators will stay for a certain amount of time, but players can shoot down the Generators to stop more Huggables from being spawned. Once the Generators are done spawning Huggables, they will stay for a bit before disappearing back into the ground if players do not destroy it.
The big Generator will produce large Huggables, while the small Generator will produce small Huggables.
Trivia
Destorying the Generators, will drop Kill Tokens.

The small Generator will drop 1 token, while the big Generator will drop 5 tokens

The Large Generator in the middle takes more damage to destroy than the Small Generators
Gallery
Ad blocker interference detected!
Wikia is a free-to-use site that makes money from advertising. We have a modified experience for viewers using ad blockers

Wikia is not accessible if you've made further modifications. Remove the custom ad blocker rule(s) and the page will load as expected.