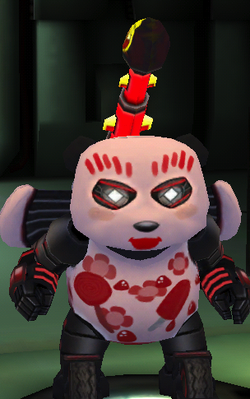 The Defaced is a skin for the Demo. It features the Demo covered in ironically cute and cheerful-looking graffiti.
It costs 15 Gas. 
Best not to wear this one unless you're -very- very good.
~ Official Battle Bears Gold description
Trivia
In the early beta versions of Battle Bears Royale (now Gold), it was called the Popsicle and costed 13,125 Joules Later, before the 2.1 update, it costed 40,000 Joules, before being changed again to that currently seen.
Ad blocker interference detected!
Wikia is a free-to-use site that makes money from advertising. We have a modified experience for viewers using ad blockers

Wikia is not accessible if you've made further modifications. Remove the custom ad blocker rule(s) and the page will load as expected.