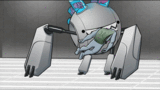 This page is under construction!
This page is under construction and will be updated regularly with new information and content. Feel free to contribute with relevant information.
If you are unsure of where to place your info, or you have an idea that involves major changes, please leave a comment below or ask an admin.
Ad blocker interference detected!
Wikia is a free-to-use site that makes money from advertising. We have a modified experience for viewers using ad blockers

Wikia is not accessible if you've made further modifications. Remove the custom ad blocker rule(s) and the page will load as expected.