Carpet Bomb



Class

Type

Secondary - Explosives

Level Required

10

Price

275,000 Joules

Explosives

24-38

Area of Effect

Max Dmg 120.0, Min Dmg 300.0

Shots per Second

0.357

Ammo

2

Reload

4.6 seconds

Projectile speed

900 u/s

See:
Carpet Bomb is a secondary weapon for Arbiter in Battle Bears Gold, being released in the v2.15
This carpet has been through years of training to prepare for war!
~Official Battle Bears Gold Description
Usage
The Carpet Bomb is an explosive that can deal high amounts of damage to an enemy or a group of them. When launched, the Carpet Bomb will fly in an arc, and it will stop once it reaches an object, a solid base or a player, even a teammate. When it stops, the carpet will be opened and fire starts to burst around it, it will deal high damage to any enemy within its AoE. It's not recommended to use it for close targets or in closed spaces, since it has a rather large AoE and the player can easily commit suicide. After the first carpet is launched, the player won't be able to launch the next carpet in about 2.8 seconds. It does 3 rapid explosions, before stopping.
Equipment
The following Equipment affects the Carpet Bomb:
Video demonstration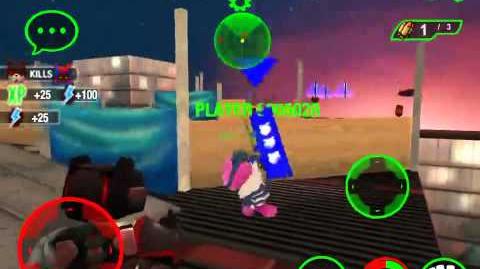 Ad blocker interference detected!
Wikia is a free-to-use site that makes money from advertising. We have a modified experience for viewers using ad blockers

Wikia is not accessible if you've made further modifications. Remove the custom ad blocker rule(s) and the page will load as expected.