Booty Duty
is a skin for 
Chub Scout
in
Battle Bears Gold
.
It features
Wil
in exercise clothes, which of course is very ironic, given the skin's description and the cookies, chips, candy bars, and lollipop on his team-coloured and black backpack, not to mention that Wil is rather unfit.
It currently costs 15 Gas and has no level lock.
Do a push up, devour a handful of gummy worms. Do a crunch, inhale an entire pizza. Jog a foot to the stove, burn and instantly consume 900 calories of mac n' cheese. Keepin' that booty in shape is tough!
~ Official Battle Bears Gold description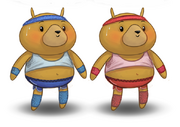 Trivia
It used to cost 125,000 Joules.
Ad blocker interference detected!
Wikia is a free-to-use site that makes money from advertising. We have a modified experience for viewers using ad blockers

Wikia is not accessible if you've made further modifications. Remove the custom ad blocker rule(s) and the page will load as expected.