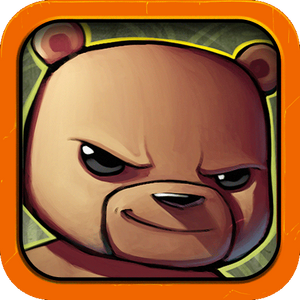 The Battle Bears Comics are comics written by SkyVu Entertainment and published by Devils Due Digital Inc. intended to fill in the gaps of the Battle Bears storyline between Battle Bears -1 and Battle Bears: Zombies from the perspective of Oliver and Riggs. It costs $0.99 and there is currently only one issue that relates to the storyline, being "Chapter 1: No Re-Entry". It is rather significant, giving the first ever reference of Astoria, and also Roboticus, a Battle Bears -1 boss concept that was very close to its release stages but ultimately never saw it into the game. The app stopped recieving support a long time ago, and is now believed to be at a "dead-end". There are currently three comics in this series:
Chrismakwanzuhkah (special Christmas issue)
Chapter 1: No Re-Entry
Manic Carpet Ride
There is also an Issue #2 sneak peek that shows concept art for the next issue (yet to be released).
Christmakwanzuhkah
(PLOT SUMMARY COMING SOON!)
Chapter 1: No Re-Entry
Maniac Carpet Ride
(PLOT SUMMARY COMING SOON!)
Ad blocker interference detected!
Wikia is a free-to-use site that makes money from advertising. We have a modified experience for viewers using ad blockers

Wikia is not accessible if you've made further modifications. Remove the custom ad blocker rule(s) and the page will load as expected.