This page has been converted from the old "Bots" page. Please expand.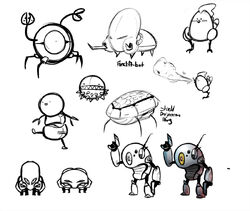 Bots
appear in
Battle Bears Zero
 in Arcade Mode as enemies. Their main weapon is a volley of slow-moving missiles (seen in Stage 3) that can be deflected with
Wil
's
Bubble Gun
, but some Bots also hold rather inaccurate laser guns (seen in Stage 2). The Bots appear to be under
Rho
's control.
Ad blocker interference detected!
Wikia is a free-to-use site that makes money from advertising. We have a modified experience for viewers using ad blockers

Wikia is not accessible if you've made further modifications. Remove the custom ad blocker rule(s) and the page will load as expected.